RICHARDSON GMP
IN THE COMMUNITY
By Paul
There is no shortage of ways to give back to our communities. As an office, we have chosen to get behind the Potluck Café Society. If you have not heard of this great organization, here is a quick summary from their literature:

A registered charity and social enterprise, Potluck Café Society transforms lives by creating jobs with training and life skills support and increasing access to healthy food for people living in Vancouver's Downtown Eastside through 5 community programs. Over the past eight years, proceeds from the Opry concert in Vancouver have sustained jobs and enabled Potluck to serve over 50,000 healthy meals AND support our other community programs for people living in the Downtown Eastside.
One of the ways that we support them is by serving at a Community Meal. This is the third time the office has served a Community Meal but the first time I pitched in.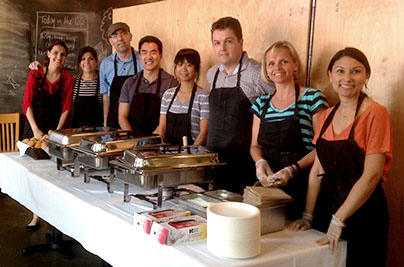 You'll see in the picture that we were ready to go for what was a busy afternoon. Time flew by as we served a delicious meal (we were all able to partake as well) of Bangers and Mash to approximately 400 people.
It was a pleasure to serve with my colleagues and help out our neighbours in such a practical way.