JEFFERSON|STEELE
CHRISTMAS IDEAS
Dwight

Once in a while, a good old-fashioned detective novel is my favorite literary escape. "Celine", by Peter Heller, was recommended in the literature section of my favorite fly fishing magazine, The Drake. Hey, don't judge me. I was not disappointed. Celine is beautifully written, a great work of literature that will stand the test of time. Heller's prose is captivating, rich, and powerful. And there's a great whodunit story as well! This is one for an evening curled up by the fire, or in a hammock in the sun for you Snowbirds.

For those who prefer reality to an escape, pick up a copy of "Humans Need Not Apply", by Jerry Kaplan. This book should be required reading for anyone entering the workforce, or making a decision about a course of study. Rapid advances in technology, including robots and artificial intelligence, are going to dramatically change the world in the next twenty years, and we as a society need to act quickly to ensure that these changes are positive, not devastating. Individuals need to recognize which jobs won't exist in twenty years (and that includes over 40% of all the jobs that exist today), and plan accordingly. I don't need to point out that our society is at a crossroads, with the wealth gap growing rapidly, and a dystopian future a possible result. Read this, and then do your part to promote social and political change that will benefit mankind. Or, grab what you can now and be part of the 1%, and hope that the other 99% don't undertake violent revolution. In my opinion, that's a false hope, so we better get our collective act together...fast! How's that for a hook to get you to read this book?

Celine, Peter Heller, Knopf Doubleday, 2017.
Humans Need Not Apply, Jerry Kaplan, Yale University Press, 2015.

Happy Holiday Reading!




Tyler

Movie
A Christmas Carol (1951 version)
Book
How the Grinch Stole Christmas
Activities
Lights at Van Dusen Gardens
Christmas train in Stanley Park


Neil

Book
Movies
Star Wars, Elf with Will Ferrell
Activities
Snow shoeing, Christmas Market, winter camping, and enjoying time with friends and family over a pint of winter ale!


Eddie

My favourite book to read is A Christmas Carol by Charles Dickens, a total classic. My favourite movie to watch is A Christmas Story from 1983, also a classic. My favourite activity to do over the holiday, besides eating a lot of food and celebrating the past year with family, is golfing on Christmas Day!




Wendy

Our Family Christmas traditions start with a little outdoor decorating – our grandchildren and the neighborhood kids love it.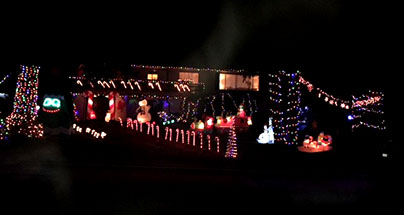 We also have Family Puzzling every Sunday – four Christmas puzzles so far this year!




Brenda

One of my favourite holiday traditions happens right here in the office! If you've been in to meet with us or are coming in soon, you will see the winter wonderland we've created in our work area. We like to think it brings joy to those around us, and certainly anyone who comes in seems to think it's fun!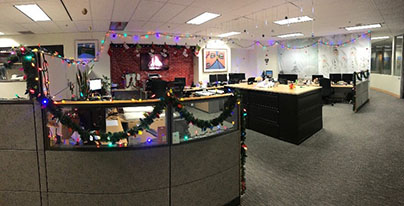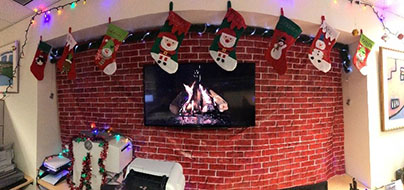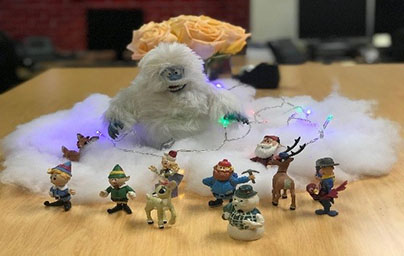 Jessica

The holidays aren't complete without watching my favorite Christmas movies! The list includes:

A Christmas Carol (1951 version), Elf, A Christmas Story, The Holiday and the stop motion animated classics Rudolph the Red Nosed Reindeer and The Year Without a Santa Claus.

I always spend Christmas in Victoria and a family tradition is to visit The Butchart Gardens on Christmas day. It's an amazing display of lights, complete with the 12 days of Christmas!

This year I visited the Canyon Lights at the Capilano Suspension Bridge Park for the first time. We really enjoyed it and most likely the start of a new Christmas tradition!




Heather

Christmas trivia

Questions

Q: What well-known Christmas carol became the first song ever broadcast from space?

Q: Which country gifts the Christmas tree that is placed at the Trafalgar Square in London, according to Christmas tradition?

Q: Which country has a tradition of a witch dropping gifts for children through the chimney at Christmas?

Q: Instead of getting "a lot of stupid toys", what is it that Lucy wants for Christmas?

Q: In what year did Canada Post issue its first-ever Hanukkah stamp.

Answers below…

A: Jingle Bells in 1965, by the crew of Gemini 6.

A: Norway. The giant Norwegian spruce has been an annual gift to London from the people of Norway since 1947, in recognition of Britain's support during the Second World War.

A: Italy- "La Befana" visits on the Eve of the Epiphany.

A: Real Estate

A: November 20, 2017.