THE ELEGANT UNIVERSE: SUPERSTRINGS, HIDDEN DIMENSIONS, AND THE QUEST FOR THE ULTIMATE THEORY
Book by Brian Greene
Review by Neil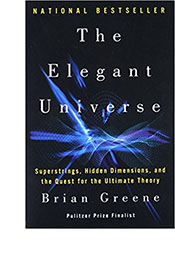 I have always been curious about astronomy, and how the universe works. According to the classical laws of physics, the universe operates much like a clock and the stars and galaxies move in a predictable path, as described by Newton. The universe was static and predictable and everything was governed by a set of knowable laws of nature (gravity, electromagnetism, and the two nuclear forces).

However, during the turn of the 20th century the world of physics was turned on its head as two major breakthroughs in physics were uncovered: General Relativity and Quantum Mechanics.

In The Elegant Universe, author Brian Greene, professor of mathematics and physics at Columbia University, describes the two theories in terms easily digestible for the non-physicists.

General Relativity helps to describe the world of the very large, like planets, stars and galaxies, while Quantum Mechanics describes the world of the very small like atoms and particles. Both theories have been remarkably successful in their predictions, when put to the test of experimentation and observation.

Unfortunately, there is a major rift between the theories and they appear to be fundamentally incompatible. For example, general relativity is very accurate in predicting the curvature of a bullet fired from a gun. However, it cannot be used to predict the movement of a photon fired from a laser. According to Quantum Mechanics, the photon can be in multiple spots at any given time and you can only predict the probability of where the photon might be, and the mere observation of the photon will effect the outcome. This is a unique and disturbing thought! To think that anything could be in more than one spot at any given time goes against our sense of reality. To paraphrase Albert Einstein, I believe the moon is still up in the night sky even when I'm not looking!

As Greene writes, it seems peculiar that there would be two separate theories to describe the world and universe. In fact, Einstein unsuccessfully spent his final years trying to find a unifying theory of everything. And this is where Superstring Theory (or String Theory) comes into the story.

In his book, Greene masterfully weaves the problems with modern physics and introduces String Theory as a possible solution as a grand unifying theory of everything for the masses. Without the use of complex mathematics, Greene describes the interesting world of strings, the tiny vibrating building blocks of everything. Greene describes how theoretical physicists are using complex mathematics, including the introduction of multiple dimensions, to mend the rift between general relativity and quantum mechanics.

While it may take decades to devise experiments that prove String Theory, it appears to be the only game in town right now that might eventually explain everything!