STRANGERS IN PARADISE,
HOW FAMILIES ADAPT TO WEALTH ACROSS GENERATIONS
By James Grubman
Review by Tyler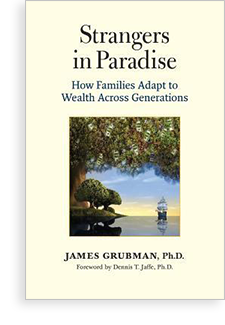 Strangers in Paradise was written by James Grubman Ph.D., a faculty member at Bentley University. He created the first graduate level only course in the USA on the psychology of financial planning. The book discusses the challenges that families and individuals encounter when they come into new and significant wealth. He follows three fictional families through several generations, as examples of what to do and what is best avoided in navigating the challenges of handling wealth. Dr. Grubman's mixture of storytelling via family experiences and factual points on the psychology of wealth made the book a compelling read. The experiences of these families, which were drawn from his interactions with clients over many years, made the book more interesting and drove his points home very well. I would strongly recommend this book to people who are interested in the psychology of wealth and how to teach younger generations how to be good stewards of wealth.

Dr. Grubman has worked with high net worth families for several decades, coaching them on the psychology of having wealth. The genesis of this book was through a decade of work with Dr. Dennis Jaffe, who is a professor of organizational systems and psychology at Saybrook University. They wrote an academic paper together in 2007 and this book expands on that paper. Up to the time of this book being written, there was very little academic literature on the psychology of having wealth.

The book begins by asking the reader to imagine a land called "Paradise." In this land the abundance of wealth and money allows the residents to live very comfortably and to have many choices and opportunities to help family and be charitable to others. He describes the fact that 80 percent of the residents of "Paradise" move there in middle age and will have to learn the ways of the culture of wealth, which will be new to them. The analogy that Dr. Grubman, with the help of Dr. Jaffe, uses is to imagine the struggle that immigrants face when they move to a very different country. Immigrants need to decide what parts of their home country culture to retain and what parts of the new culture to embrace. Can they honour the heritage of their home country (in this case being middle/upper middle class), while embracing the new expectations of "Paradise."

The book follows three fictional families, the Morgans, the Spinellis and the Lloyds as they move very suddenly move to "Paradise." These families receive $47 million, $37 million and $20 million respectively, from the sale of their private company. By following the three families, Dr. Grubman is able to use real examples of the struggles and issues that families and individuals face. The situations they faced were very believable and Dr. Grubman used this tool very effectively.

In his description of Paradise, he rightly points out there are different parts of "Paradise". Many immigrants only move into the edge of "Paradise", meaning that they are wealthy but at risk of having to leave "Paradise" and move back to the land of ordinary wealth. A smaller group of very wealthy people live deep in "Paradise", the example would be people with net worth in the hundreds of millions or even billions. He also describes the difference between immigrants and natives, who were either born there or moved early in life.

I found Dr. Grubman's descriptions of inter-generational conflicts extremely helpful and illuminating. Using the analogy of immigrants and natives drives home how children of immigrants, who do not have direct experience with life before the move to "Paradise", could struggle to understand what life was like before, without careful teaching and coaching to embrace the values of the former "Middle class country."

Dr. Grubman's method of following three families along this inter-generational journey helped make the book feel less like a text-book and more like a story. It also solidified the points he was attempting to convey. We can easily identify with the situations the three families are facing and most important, how we can learn from their successes and failures.

Many of our clients are in the midst of their journey to wealth or have recently arrived. Their concerns about wealth are just like in the book and when I use the analogy of migrating to and living in "Paradise', our clients immediately understand and appreciate this. The conversation about concerns and fears about wealth and family then flow very easily. This leads to valuable conversations about holding family meetings and developing family values. Where the book personally resonates with me in my personal life is the discussions about how to talk to children about money and values. My wife and I have 3 children, ages 2 – 9. The book has been very helpful in our discussions with our children about our family values and the role of money. This will be an ongoing process as our children get older.