OCTOBER 2017
You're invited to a special event:
Willing Wisdom with Tom Deans, Ph.D.
Join us on Thursday, November 16th for a compelling seminar with Tom Deans, Ph.D., author of the best-selling books Willing Wisdom — 7 Questions Successful Families Ask and family business book Every Family's Business.

"Willing Wisdom seeks to change the perception of what a Will is and what it can be. It aims to ignite the passion in the hearts and minds of everyday people — people rich and poor — to use their Will to invest in what ought to matter most — relationships."

Join us as Tom speaks passionately about gaining the confidence to hold family meetings to discuss wealth and its inevitable transfer to family and the community.

Date

Thursday, November 16th, 2017

Time
5:15 pm – 7:30 pm

5:15 pm: Registration, cocktails & hors d'oeuvres
6:00 pm: Tom Deans Presentation
Location
The Fairmont Hotel Vancouver
900 West Georgia Street (

map

)

Parking is available on site
RSVP
To Heather.Meehan@RichardsonGMP.com
Make a night of it!

Hotel Vancouver is offering a special rate of $209/night to make attending easier! After you RSVP as above, please use this link to book your hotel room online:

https://aws.passkey.com/go/richardsongmp2017
(book now—there's a 48 hour cancellation policy)

We look forward to seeing you there!
Book review by Tyler
Strangers in Par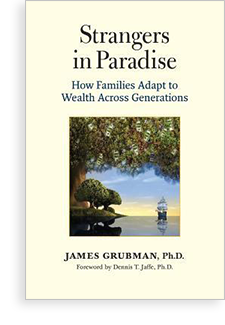 adise was written by James Grubman Ph.D., a faculty member at Bentley University. He created the first graduate level only course in the USA on the psychology of financial planning. The book discusses the challenges that families and individuals encounter when they come into new and significant wealth. He follows three fictional families through several generations, as examples of what to do and what is best avoided in navigating the challenges of handling wealth.
The Coming Renaissance of Macro Investing
In the summer of 1974, Treasury Secretary William Simon traveled to Saudi Arabia and secretly struck a momentous deal with the kingdom. The U.S. agreed to purchase oil from Saudi Arabia, provide weapons, and in essence guarantee the preservation of Saudi oil wells, the monarchy, and the sovereignty of the kingdom. In return, the kingdom agreed to invest the dollar proceeds of its oil sales in U.S. Treasuries, basically financing America's future federal expenditures.
Lorica — What We Think
It has been almost one year since the US election, but in terms of implementation of President Trump's economic agenda, not too much has happened. Yet the US stock market is up 18% (S&P 500 Index), US corporate and high yield spreads have narrowed by 30 and 144 bps respectively (Bloomberg Barclays US Corporate Bond Index and BofA Merrill Lynch US High Yield Option-Adjusted Spread). Perhaps most significantly for capital markets, the Fed is no longer scared to tighten policy, although markets seem the least bit concerned.
QV — A Review of Risks and Rewards
Economists and market commentators have been touting the increasing risks across asset markets for some time. However, seemingly unflustered by any mounting pressure, major stock markets around the world continue to reach new highs.
Barney Bentall and the Cariboo Express are coming Saturday, November 25 and we want YOU to join us!
The 12th annual Barney Bentall & The Cariboo Express concert in support of Potluck Cafe Society will be held at the Vogue Theatre in Vancouver on Saturday, November 25th, 2017 at 7:15 pm.