BARNEY BENTALL & THE CARIBOO EXPRESS CONCERT IN SUPPORT OF THE POTLUCK CAFÉ SOCIETY
Dwight and Tyler want to show you a good time!
This year, the 11th Annual Barney Bentall & The Cariboo Express concert in support of the Potluck Café Society will be held on Saturday, November 26 at the Vogue Theatre, starting at 7:30 pm. Jefferson | Steele Partners made a three year commitment as presenting sponsor, and we invite you to be a part of this fun, feel good evening.

This show is a concert first and foremost. Yes, they will let you know a few times during the show that the Potluck Café Society is the beneficiary of the evening, but there is no hard sell or guilt trips. Well, Barney does run a good ol' small town meat draw, $2 per ticket!

Please join us! Click here to buy your tickets at Ticketfly!


Why are Dwight and Tyler personally sponsoring this concert?

Our team had a revolutionary experience last fall when we volunteered at the Potluck Café Society's community meal in November. We had used Potluck Café's catering service for some time; going there and seeing firsthand the work that they do felt to us like exactly the kind of social enterprise we wanted to see succeed.

In the two years previous, we had attended the Barney Bentall & The Cariboo Express concert held in late November, so we knew what a celebratory and fun evening they put on. Everything started to fall into place. We stepped in to be the title sponsor last year, and our team decided shortly thereafter to make a three year commitment.
A private pre-show cocktail reception will be held exclusively for our clients and their friends who purchase a ticket for this evening. Click here to email us with details of your party (names, the location of your seats) and we'll add you to our guest list . More details will follow for those of you joining us.

Why aren't the tickets complimentary?

Normally when we invite you to join us for an event, there's never any cost to you. However in this case, we've changed our minds. We want to ensure that every penny of our sponsorship dollars go to help the Potluck Café Society's work, so we're asking you to help by buying your own tickets. Instead, we're inviting you to join us for cocktails "on us" beforehand to celebrate the season and show our thanks. We want to get you hooked on this show; it comes to town every year at the start of the festive season!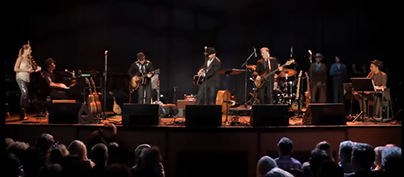 Photo from the 2013 Barney Bentall and the Grand Cariboo Opry show.
Click here to watch a short video of the actual concert in 2013 which also gives some background on the Potluck Café Society's work. View also their promotional video Potluck Recipes for Success by clicking here .

About the Potluck Café Society:

A registered charity and social enterprise, Potluck Café Society transforms lives by creating jobs with training and life skills support and increasing access to healthy food for people living in Vancouver's Downtown Eastside through 5 community programs. Over the past 10 years, proceeds from the Opry concert in Vancouver have sustained jobs and enabled Potluck to serve over 75,000 healthy meals and more to people living in the Downtown Eastside.

To order catering from Potluck Café Society's catering business and support social enterprise in Vancouver yourself, click here: Potluck Cafe Website .

We are excited to share this evening with you and yours!

— Dwight, Tyler, Paul, Neil, Wendy, Jessica, Brenda