JANUARY 2015
What's in a newsletter?
More than meets the eye, actually. First, we put it together ourselves each month, with contributions from different members of our team. Second, we recently changed the format of our newsletter... this new email format has LINKS to the body of the various articles. This allows us to track which articles get read, and which get ignored. We hope to use this information to focus on topics of interest to our clients.

If something sounds interesting, please click the link and take a look! Of course, there is no substitute for direct feedback... so feel free to email me with your comments, critiques, and ideas. We try to provide a mix of lifestyle and financial articles each month, with more of a financial focus at the end of each calendar quarter. Let us know what you like, and what you don't.

And if by chance your computer doesn't like our links, or you just prefer a PDF file, let us know and we'll certainly accommodate you.

Now, scroll down and click away!

Thank you,

Dwight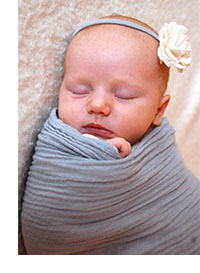 Baby announcement
On December 9, 2014 Tyler and Julie Steele welcomed baby Rose to their family. She was 20.5 inches long and 8.0 pounds.
Mum and baby are doing very well at home and older sister and brother, Isabella and Jack, are thrilled to have a baby sister.

Tyler is reaffirming his love of coffee.
Economic commentary
Each quarter, PIMCO investment professionals from around the world gather in Newport Beach to discuss the firm's outlook for the global economy and financial markets.
Market commentary
Last quarter we noted the growing dichotomy between the economic health in the U.S. relative to other major world economies. This divergence became even more apparent this quarter.


RRSP and TFSA reminder
The deadline to contribute to your RRSP for the 2014 tax year is Monday, March 2, 2015.

Your guide to 2014 income tax reporting
As you prepare to file your 2014 income tax return, this brochure will assist you in understanding the tax forms you will receive from us and provide you with expected mailing dates for each form.

6 tips to thwart identity theft and fraud
Financial fraud by identity thieves is simpler than victims might suspect, experts warn.