FISHING IN NORTHERN WATERS
By Eddie
Date: August 5 - 12
Ship: 53' 1980 Canoe Cove - "Sprite V"
Crew: Nick Gudewill, Eddie Gudewill, John Macdonald, Tim Wiggins, Eric Ander
Fish on Board: 13 Spring; 5 Coho
Anchorage: Cannot be named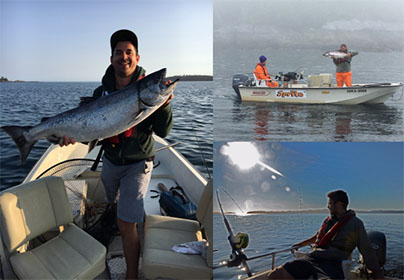 This summer, like every summer, we spent an amazing week aboard my Dad's boat for the annual fishing trip. With excellent company, including my good friend Eric, we charted a course northbound out of Bella Bella, B.C. to a final destination that cannot be named (apologies, this location is a closely held family secret). Here we would spend the following seven days without any outside contact with the world nor set foot on land.

From the crack of dawn around 5am, we were on the water fishing for about 8-10 hours per day. Aside from catching a boat load of fish – which we estimated at around 250 lbs. of salmon – we were fortunate to witness countless numbers of breaching Humpbacks, a species that used to be classified as endangered not so long ago. Thankfully, they are flourishing once again and returning in droves!

Typically the weather is extremely variable on these trips; 10ft swells, high winds and sideways rain is normal. However, this year, we were utterly blessed with some of the best conditions we've ever had. Flat calm waters and blue bird skies followed the thick and abyss-like morning fog to reveal nature for the beauty it really is.

As you can imagine, highlights of this kind of a trip in such a secluded environment are countless: quality time spent family and friends, exquisite food and drink, fantastic story-telling, and last but not least – no internet or cell phone connection. To me, fishing up north is the best way I know to achieve true sense of clarity and calmness in a world that demands immediate connectivity.

Finally, while I did not catch the most, nor the biggest fish this year, I happily applaud my friend Eric (pictured above) for reeling in the biggest (32lber) fish of the trip and his fishing career to date!

Signing off until next year.
Eddie