DWIGHT'S TRIP TO GUATEMALA
On February 10th I arrived in Guatemala City as part of a group of five individuals, to see the results of a $300,000 lending project funded by World Vision and implemented by AGUDESA. Micro-finance lending involves making small loans to individuals, community groups, and solidarity groups (individuals who cross-guarantee one another's loans in a "social contract"). These loans are targeted at impoverished communities within World Vision's Area Development Programs (ADPs). World Vision's primary mission is child welfare, so once they have arranged sponsorship for at-risk children within an ADP, and once they have implemented community support for health education, nutritional education, and early childhood development support, AGUDESA comes in to offer loans to entrepreneurs to develop sustainable businesses in their communities (yes, the old "teach a man to fish…" approach).
AGUDESA's track record is terrific; they currently work with 5,000 clients, with a total loan portfolio of $3,000,000—60% agricultural businesses, 27% manufacturing, 13% retail and service. Their loan loss rate is approximately 3%, and the bank is self-sustaining. Loans have terms of 1 to 3 years, and are fully amortized. Many borrowers have taken several loans over the years as they grow their businesses. The AGUDESA lending program complements World Vision's social impact with economic impact.
Guatemala is a country where the majority of the population is indigenous, and live in the mountainous regions, surviving through subsistence farming on steep volcanic slopes, in an atmosphere of poverty, crime, the drug trade, and political instability. In the cities, heavily armed gunmen guard gas stations and retail stores. The affluent live behind walls topped with razor wire. Tourists are warned not to travel at night, and never to venture out alone.
In the mountains, maize and beans are the staple foods; malnutrition is a major issue. The borrowers with whom we met had all built businesses that allowed them to feed their children, and to educate them. We met proud, hard-working, entrepreneurial people, with strong values, and ambitions for their children's futures that would not have been possible without access to capital from AGUDESA.
I will share just a few stories of the people I met:
Dora and Abram run a bakery. They are in their early 40's and are the parents of four children. Two of their daughters have graduated from University already. They are on their third loan. Loan proceeds were used to finance 100% of their business as follows: ingredients; the construction of a brick, wood-fired bread oven; baking equipment (trays, bowls); bicycles, motorcycles, and most recently three trucks for delivery to other villages. They have been operational for 9 years, and now serve 5 villages. They produce 18,000 pieces of bread products per day using 600 lbs. of flour. They have 7 employees to bake the bread and help with deliveries. Most are young, and work 11 hours per day, 7 days per week, doing every aspect of the baking by hand. They rent the dirt-floored galvanized tin shack which is their bakery facility, in which they operate two shifts per day. Abram hopes that they can purchase land on which to build a larger bakery in the near future, to expand production and sales into new communities. Abram and Dora were very proud that they have been able to educate their four children, provide jobs for other families, and they had a high level of self-esteem and dignity.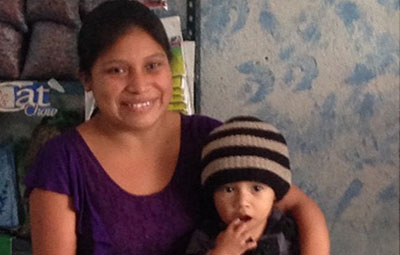 Rosa rents a retail storefront (cinder block and galvanized steel sheets) for $88 per month. She makes tortillas by hand and sells them in her store, along with eggs from the 80 chickens she keeps, and pet food (which she buys in bulk and re-sells in small portions). Rosa is 25 years old, with a young son. Her husband works in the capital city and comes home on weekends. She has borrowed $2,250 from AGUDESA for inventory and chicks. She works from 7am to 8pm, seven days a week.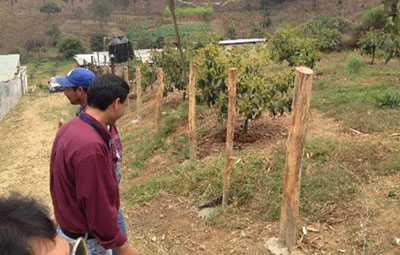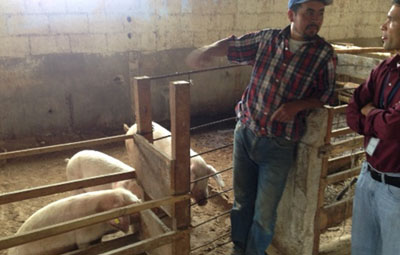 Pedro owns his own land, complete with a water well. He produces avocados (sold at the farm gate), goat milk (from 20 goats). He has cows and pigs. He has had 4 loans from AGUDESA over the past 19 years. He supplies goat milk to Save the Children, and wants to continue to expand his production to supply World Vision Guatemala in the future. He has recently borrowed $1,500 to purchase more goats and to fence his avocado orchard. He employs 11 people. Pedro and his wife ahave two children, both of whom are in university. His daughter is only 16. The money Pedro has made farming allowed him to pay for his children's education (books and supplies in elementary school, and private middle school) to give them the opportunity to attend university.
Throughout the mountain villages of Guatemala, there are several million people like Pedro, Dora, Abram, and Rosa. Most are malnourished; few are educated past elementary school. The middle school we attended had 55 students per class, an outdoor latrine, and more classes than teachers. Each student had one textbook… a language textbook published and donated to the school by World Vision. Parents must pay for all school supplies, even in the public school system. Yet even in the face of huge challenges, these people strive to improve their lives, build their communities, and work to bring economic prosperity to their families and villages. Their collective graciousness, spirituality, generosity, and kindness are what I will remember.

Dwight