FRASER RIVER GOLD PANNING CHAMPIONSHIPS
by Brenda
Nothing inspires the imagination like the dream of finding gold.
You can pan for — and find — gold on the Fraser River. It's not easy, but I've seen it done! The first step must be to let Yukon Dan and his friends teach you their tricks at the annual Fraser River Gold Panning Championships, held annually in August.

From the early prospectors in the Fraser Valley and Cariboo to the hardy and brave sourdoughs of the Klondike, our country's promise of a better life isn't just the stuff dreams from the early 1900's.
Inspired by a presentation in my son's grade 4 class given by Yukon Dan, my family set out in mid-August to Anderson Creek Campground just outside of Boston Bar with no experience but a vanload of excitement. Could this be the start of vast fortunes in gold?

The three day event started with an open training session in Yale, where dozens of passionate gold panners taught any and all newcomers the basic techniques of panning right at the edge of the river at the recreational gold panning area. We all quickly succumbed to gold fever! What struck us straightaway was the kindness and excitement to share the skill that we felt from every one of the returning participants. Clearly they had been doing this for quite some time and felt passionate about spreading enthusiasm for the hobby. Most if not all participants camped along with us for the weekend at Anderson Creek Campgrounds, run by the friendly and meticulous Bernard, who made it feel like a real family affair.

With Yukon Dan himself as our host and a long list of corporate sponsors from AME BC, Teck and New Gold to Fraser River Raft Expeditions and Barkerville Historic Town, the event had a down home feel soaked in gratitude for the material support provided to make it come together. Between the generous prizes and the fact that Yukon Dan seeds the paydirt with Klondike Gold, the cost is not small given so little is recouped from participants.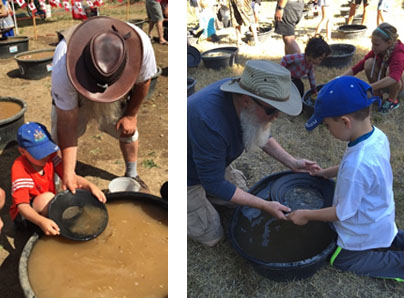 The actual championships were held in a grassy field within the campground, not at the edge of the raging Fraser River since the waters are far too ferocious at this part of the canyon. For a nominal $5 or $10 per event with no general registration fee, attendees could enter in their age category as well as in any number of "for fun" challenges: blindfolded (a partner tells you what to do), anything but a gold pan (panning using pot lids, hub caps, etc.), hand in hand (two hands, two people with one hand each around the other), three person fun team (one uses a newer technology pan, one an old-fashioned smooth metal pan, and one a small frying pan!) and more for the more experienced panners (flat pans, for example, blew my mind!).

While the professional panners were being timed and competing to qualify for larger and larger international competitions, the weekend itself was designed with Yukon Dan's primary focus in mind: kids. Children were free to enter in their age group, and received their own gold pan, stuffed toy, book about gold and a cool chunk of fake gold. In addition, they received a bag of paydirt to pan, seeded with peacock ore, Klondike gold flakes, pyrite and more. With every break in the day's agenda, the first thing we did upon returning was have another round of children panning another bag of paydirt! My kids came away with about 8 vials' worth, and as much or as little coaching from veterans as they wished. Sometimes there were two or three experts on hand to help!

Late August in the Fraser Canyon is HOT; we saw no less than 35 degrees all weekend. Since we were new to experience, we only entered a couple of categories, but felt fully involved the whole time since every panner in every competition needs a timekeeper. We made fast friends with a number of other families by timing them multiple times, and then begged off sometimes to take cover under the canopies or take a turn with the water sprayer to cool down.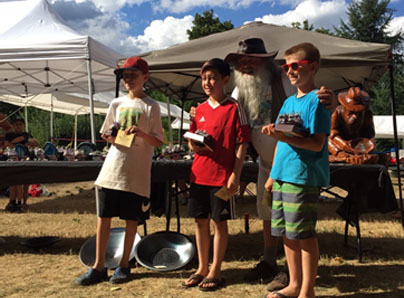 After all of the events finished late on Sunday afternoon and the results tallied, Yukon Dan awarded extravagant trophies to the top three panners in every event, based on number of gold pieces found and their time to pan. Children 12 and under were all given small amethyst mementos and fossils that delighted them. My son also came in third place in the Children 8-12 age category, and received a truly beautiful award and coupon for Barkerville Historic Town.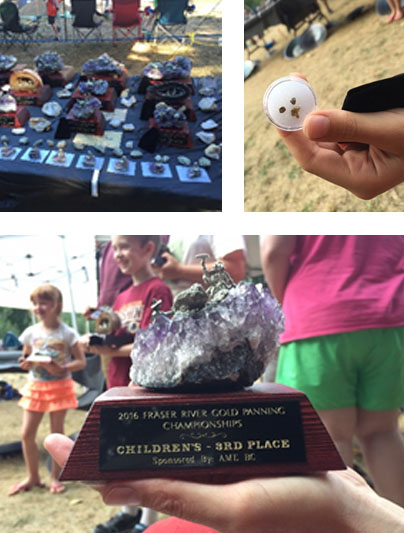 As a grand finale, Yukon Dan took all of the paydirt we used all weekend (with all its unfound gold intact) and added a vial of over $1,000 of new gold nuggets and let everyone pan at will! Whatever was found, we could keep!

If you are interested in finding out more about Yukon Dan and the 2017 Fraser River Gold Panning Championships, click here! Our family will be there for sure, celebrating the 10th year of the event. Ask me if you have any questions!