November 2018
Congratulations Eddie and Sam!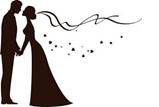 In front of family and close friends, Edward Gudewill and Samantha Ellis were married in Palm Desert on November 10th.

We wish them a lifetime of love and happiness!

---

Potential consequences of creating joint accounts with your children
We have a number of clients who have joint accounts with one or more of their children. This has often been done for convenience and/or the avoidance of probate. Clients may not be aware of some important issues that arise from creating these joint accounts.

The attached article does a great job summarizing, and please let us know if you have any questions or would like to discuss in more detail.
---

TFSA limit increase for 2019
The TFSA contribution limit for 2019 is $6,000, up from $5,500 in 2018.

With the TFSA limit at $6,000 for next year, the total room available in 2019 for someone who has never contributed, and has been eligible for the TFSA since its introduction in 2009, is $63,500.
---

Waning Optimism — QV Update
From leading economic indicators to consumer confidence reports, sentiment in North America is still flashing green with several measures at decade high levels. Business fundamentals have also been solid, observing the return on equity (ROE) of the S&P/TSX Composite Index break above its long-run average. Why then have we seen a rise in financial market volatility and bear market moves in oil and some stocks?