JEFFERSON|STEELE
CHRISTMAS IDEAS
Dwight

Springsteen fans who want to immerse themselves in the life and times of the Boss can spend Christmas reading not one, but two books on the life of one of the greatest musicians alive today. As President Barack Obama once said, "I'm the president, but he's the Boss."

The first book, "Bruce", is a biography by Peter Ames Carlin, a NY Times bestselling author known as one of the best writers on the music industry. Read this book while listening to Bruce Springsteen albums in chronological order as you go through the chapters… you'll understand how his lyrics were inspired by the events in his life.

The second book, "Born to Run", is Bruce's autobiography, and was just released in September. The two books take dramatically different approaches to the story… fans of the Boss will find them both difficult to put down.

"Bruce", by Peter Ames Carlin, Simon & Schuster, 2012

"Born to Run", by Bruce Springsteen, Simon & Schuster, 2016

Happy Holiday Reading!


Tyler

Movie: A Christmas Carol (1951 version)
Book: How the Grinch Stole Christmas

Activity: Lights at Van Dusen Gardens

Book: The Hobbit

Movies: Star Wars, Elf with Will Ferrell

Activities: Snow shoeing, Christmas Market, enjoying time with friends and family over a pint of winter ale.

Paul
An annual must see at my house is Chevy Chase's Christmas Vacation. It never seems to get old.

And the holidays aren't complete without going sledding! We have a few favorite spots and the sled from my own childhood that is quite fast… not like the ones made today.


Wendy

Family Christmas traditions should always start with a little outdoor decorating!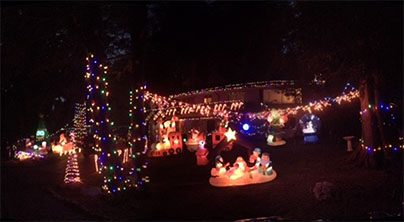 Brenda

With two young boys in the family, my husband and I seem to be running along behind most of the time. However, our Christmas traditions always include a baking session with the boys making my mom's shortbread cookie recipe. It's one of the first recipes I copied in my 18 year old hand back in Alberta, now stained, crossed out and updated to accommodate my own baking idiosyncrasies (and reflecting learned wisdom after failed efforts—"your oven runs hot, crank it down" and "oh, you just have to knead the dough more"). This year, we'll be with my mom in Alberta for Christmas, eating her perfected version of this recipe with her own style of decorating that, even after 35 years, I cannot replicate. I guess the cool thing about traditions is how they evolve generation to generation. When my boys pull out their recipe cards with their kids in the future, my own clumsy ways will be their revered Mom Style…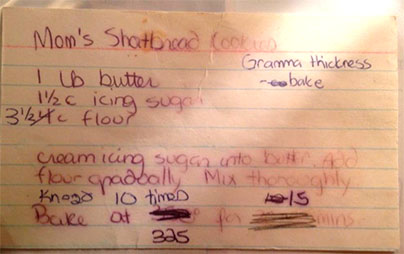 The holidays aren't complete without watching my favorite Christmas movies! The list includes:

A Christmas Carol (1951 version), Elf, A Christmas Story, The Holiday and the stop motion animated classics Rudolph the Red Nosed Reindeer and The Year Without a Santa Claus!

I always spend Christmas in Victoria and a family tradition is to visit The Butchart Gardens on Christmas day. It's an amazing display of lights, complete with the 12 days of Christmas!