WILLING WISDOM PRESENTATION, TOM DEANS, PH.D
Review by Eddie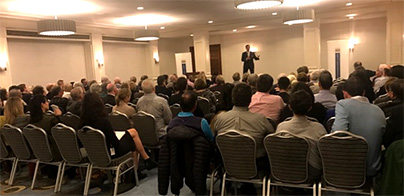 Last week we brought Tom Deans, Ph.D, and author of Willing Wisdom, in to speak to a crowd of 150 clients, colleagues, and friends of Richardson GMP. It was a very well received event by all with lots of takeaways to think about.

His speech and books contend that family has emerged as the greatest economic driver of all time. But the question remains: How can wealth be transferred successfully without destroying the recipient and the wealth itself? We are currently undergoing the greatest generational transfer of wealth in history and Deans writes about concepts to plan for a successful transition. Essentially, how you leave your money and possessions — i.e. what is drafted in your will — is just as important as what you leave.

We live in a culture that is in awe of wealth and all that it can provide. We also live in a culture that finds it difficult to talk about and contemplate death. The two are inextricably connected. Tom did an excellent job starting the conversation for our guests; we saw that first hand at this event. But rarely does he finish them, leaving that to readers and their families, friends and us, your advisor.

For those that were not able to attend and would like more information, we strongly recommend you visit Tom's website (www.WillingWisdomIndex.com) and take the "Estate Planning Readiness Questionnaire". It takes about 10-15 minutes to complete and in return you will receive a personalized and confidential report detailing your family's estate planning readiness. If you are interested, please let us know; we have a limited number of voucher-codes available.

The time to start planning your estate and communicating that plan is now. To finish with a quote from Tom:

"It is remarkably easy to predict which families will preserve inherited capital, manage each other's care and avoid destructive litigation. One need only look at an individual's commitment to planning, implementing and communicating basic information to family and friends while they have the capacity and the wisdom to will."

Author/Professional Speaker, Thomas William Deans Ph.D.