WILLING WISDOM BY TOM DEANS
Reviewed by Eddie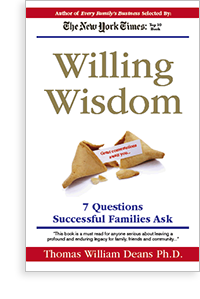 I met Tom Deans through a work event and then purchased his book, Willing Wisdom, which I read in three sittings. It's all about family planning, transparency, having open conversations; in particular having a well thought out and properly communicated will. We're all going to kick the bucket one day and this got me thinking about how we communicate within our own families.

Without a will, we not only leaving our estate in the hands of the authorities to be transferred without guidance, purpose or intent. We are also sending a lousy message to the ones who matter most.

According to Deans, it's not enough to write a will. We should be talking with our beneficiaries about what's in our will, who's getting what and why. There should be no negative surprises; we've all heard horror stories about a stunned spouse or grown children being left with little or nothing and then lawyering up to contest the will.

Yet even pleasant surprises can be difficult. Some beneficiaries have no idea what their parent or grandparent expected them to do with an unexpected inheritance or how to honour their memory and gift. "In the absence of honest conversations before a gift is made, the gift is more likely to become the opposite of what most benefactors intend — it destroys potential as opposed to releasing it. The real cost of unfinished conversations is unfathomable."

Deans proposes getting together with family on an annual basis to ask the following seven questions and then use the answers to revisit and update your will as needed:
What word best describes our family? Share a family story that helps explain the word you selected.

Describe how your parents acquired their wealth. Share a memory about something your parents did to provide for you that left a lasting impression.

How would an inheritance advance your dreams for yourself, your family and your community?

In the context of planning for the division of your assets, does fair mean fair or does fair mean equal? Who are you planning on leaving your wealth to, and will you share a copy of your will with me?

Describe how your parents divided their assets and when you first learned of the contents of their will. What would you do the same and what would you do differently?

Describe the role you play or played in the final care of your parents. Can you name one thing that was or is being done well, and one thing you could change or wish you had done differently?

Describe in detail your last wishes.
All too often there is a lack of priority put toward the difficult conversation that is our ultimate death, and what happens after that with those it most affects. We might not be here to reap the consequences of that progression, but our families, friends and charities will be directly and forever impacted. Acknowledging that everyone's starting point is different and some certainly more difficult than others, I think there is an opportunity to start a conversation sooner rather than later. The conversations that these questions spark may ultimately be the best gift you can give your family.

To our clients and friends that decide to pick up a copy of this book, this book is by no means a gift after your literary heart…You'll have to forgive the prose and the corny setting in which the scene is set but I promise if you fight through the 140 pages you'll have found your time well spent.