MARKET COMMENTARY
4Q14 Investment newsletter
By Mawer Investment Management
Last quarter we noted the growing dichotomy between the economic health in the U.S. relative to other major world economies. This divergence became even more apparent this quarter. From an American perspective, the latest GDP data reveals that growth accelerated at the fastest pace in 11 years and robust employment gains pushed unemployment rates to multi-year lows. As expected, with the economy seemingly firing on multiple cylinders, the U.S. Federal Reserve ceased its asset-purchase program and reiterated its intention to normalize interest rates, albeit in a patient way.
Elsewhere, the picture was less rosy. In Europe,the growth outlook continued to deteriorate this quarter, with several European countries citing a downward trend in inflation and lowered expectations for future growth. The possibility of deflation taking hold in Europe appears to be rising. In response, the European Central Bank embarked upon another round of quantitative easing as they endeavored to inject capital into the banking system to spur lending and foster growth. It remains to be seen whether these efforts will prove successful.
Compounding Europe's challenges is the precarious situation in Russia. The significant plunge in oil prices is unmistakably detrimental to their economy, particularly as they try to withstand sanctions imposed because of their political aggression in Ukraine. Whether Europe's already fragile banking system can absorb a significant downturn or outright financial crisis in Russia, remains unknown. The re-emergence of Greece in the headlines as they contemplate their membership in the European Union comes at a particularly vulnerable time.
Meanwhile, Japan experienced a tumultuous quarter. Despite immense stimulus efforts from the Bank of Japan, the country reported a second consecutive quarter of economic contraction, and has now technically entered a recession. In response, Prime Minister Abe called an immediate election. His party emerged victorious and soon authorized even greater stimulus measures and tax cuts to spur growth. With Europe and Japan struggling to address anemic growth, and many of the world's oil-producing nations facing an abrupt, and potentially painful, adjustment to drastically lower oil prices, the apparent health in the U.S. economy seems like an anomaly. As a result of such divergent economic conditions, we're now embarking upon a path in which the U.S. Federal Reserve is taking steps to normalize their accommodative policy while authorities in many other regions are expanding the scope of their stimulus efforts. This divergent monetary policy will likely be an important theme during 2015.
Chart A: Q4 2014 Equity Index Performance (C$)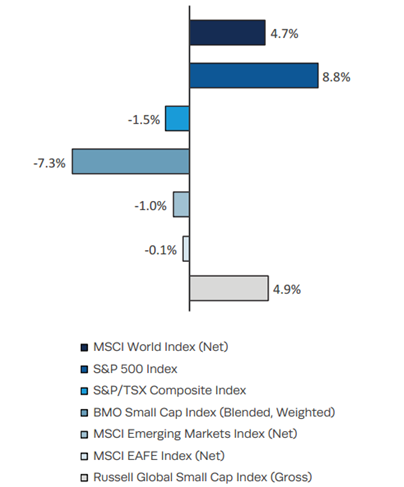 Chart A depicts how equity markets fared during these uncertain times. Performance is expressed in Canadian dollars and summarizes some of the notable equity indices from around the world: The 4.7% gain in the MSCI World Index (C$) was once again the byproduct of exceptional U.S. equity market returns which offset lackluster results in most other parts of the world. The S&P 500 Index (C$) surged 8.8% whereas the MSCI EAFE Index (comprised of companies in Europe, Australia, and the Far East) was essentially unchanged. Canadian equity markets were mired in negative territory given their relatively large exposure to the besieged Energy sector. The 4.9% gain in the Russell Global Small Cap Index (C$) is also somewhat deceiving, as it was heavily influenced by the strong performance of American companies, which offset weakness in most other regions.

Just like last quarter, the returns depicted in Chart A were heavily influenced by currency changes. Generally speaking, the U.S. dollar strengthened relative to the Canadian dollar and most other major currencies. This reflects not only the relative health of the U.S. economy, but also the perception that the Federal Reserve is further along the path of interest rate normalization than counterparts in Europe or Japan. The spectre of higher interest rates in the U.S., as well as its status as a source of refuge in times of global instability, has fueled demand for the greenback. Canadian dollars proved to be more resilient than Euros, British Pounds, or Japanese Yen. As such, for Canadian investors, investments denominated in U.S. dollars were boosted in value when converted back into Canadian dollars, whereas investments in many European and Asian currencies suffered modest losses due to this translation effect.

Chart B outlines the magnitude of this effect from a currency perspective.
Chart B: Q4 2014 Canadian Dollar Gains/Losses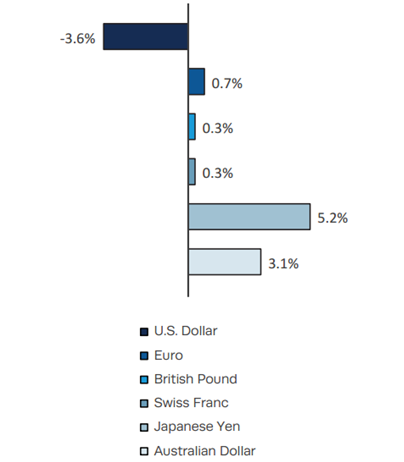 Source: Mawer Investment Management