The Watch That Ends the Night
Book review by Tyler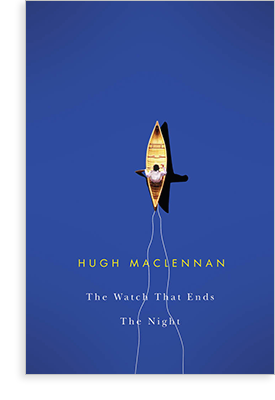 I have always been a fan of the Canadian Band "The Tragically Hip." One of their most iconic songs is called Courage (for Hugh MacLennan). I hadn't giving the part of the title in parentheses much thought over the years but the song is one of my favorites by the band. Earlier this summer, my wife Julie bought the book The Watch That Ends the Night — by Hugh MacLennan for me. I didn't know much about the book except for the connection with the song. We went on a family vacation last week to the Okanagan so I grabbed the book for lake-side reading. I have to say it is one of the better books I have read in years.

This is not your typical light summer read. It is hard to describe how fantastic this book was. People are correct when they say it is a Canadian literary masterpiece. It is.

The book was written in 1958 and is set in Montreal, and the city is a main character in the novel. George Stewart is a normal man who is married to Catherine, a girl he loved as a teenager. The story starts in the early 1950s, but much of the novel spans through the 1920s and 1930s. It revolves around George, Catherine and Jerome Martell, who was George's best friend and Catherine's first husband.

Jerome is the life-force of the novel. He possesses a character that George admires and is amazed by. We see how George views Jerome as a guide, a friend, a guardian angel or conscience for himself and his generation. We see how George slowly grows to have some of the courage that Jerome shows through his life. This isn't to say George is a coward — he isn't. He is just an ordinary man who, in several key moments, didn't stand up for what he believed in. Jerome is an iconic figure in the book. A man who came from extremely humble beginnings to become a brilliant doctor and a charismatic leader. That is not to say Jerome was without flaws, he had many. But he was courageous to stand up for what he believed in, despite the cost to himself.

Hugh MacLennan does a wonderful job of describing the evolution of Canada as a country, which really grew up and found its voice in the world in the period between 1920 and 1950.

The story is engrossing and hard to put down. Not in the way a thriller or mystery is hard to put down though. It is simply beautifully written. My favorite part is when Jerome talks about having the courage to fail, and to face death or the death or illness of a loved one, in a humble and graceful way.
Dwight Jefferson, CIMA®
Senior Vice President
Portfolio Manager
Tel.: 604.640.0555 • Email
Tyler Steele, CFA
Senior Vice President
Portfolio Manager
Tel.: 604.640.0554 • Email
Neil Kumar, CIM®
Portfolio Manager
Tel.: 604.640.0406 • Email
Wendy Lloyd
Associate
Tel.: 604.640.0556 • Email
Jessica Dewey
Associate
Tel.: 604.640.0405 • Email
Brenda Geib, BA
Associate
Tel.: 604.640.0559 • Email
Eddie Gudewill
Assistant
Tel.: 604.640.0562 • Email

Richardson GMP Limited
500 – 550 Burrard Street
Vancouver, BC V6C 2B5
Toll Free: 1.866.640.0400
Fax: 604.640.0300