THE FEDERAL OPEN MARKET COMMITTEE: READY, SET, HIKE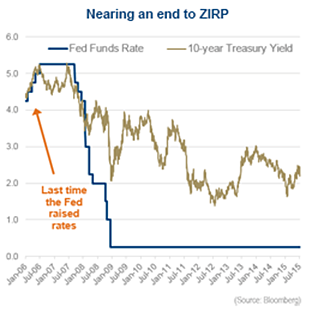 We don't know if the Fed will increase the overnight rate at one or more of their meetings in September, October or December, but we do believe that they should. The markets have been enjoying ZIRP (zero interest rate policy) for over six years and have developed a certain amount of reliance or dependency on super easy monetary policy. This has led to some excesses in the financial machinery which could grow to become bigger issues over time. Plus the current environment hardly warrants this emergency level of overnight rates. The U.S. economy has expanded by 23% during this six-year period, on a nominal basis, and most would agree has enough momentum to weather higher rates. The time has come. But this launches the market into a challenging transition, as the liquidity lift softens and is replaced by fundamental growth. Passing the baton is never easy or smooth.
The U.S. economy is expanding but it isn't all roses and lollipops. The rapid rise in the dollar has certainly weighed upon the competitiveness of exports and company earnings with significant overseas operation. While a drag on U.S. economic growth, it is a boost for the global economy. International companies become more competitive and the U.S. consumer can easily afford to buy more. Energy, or the collapse of corporate spending around the extraction of fossil fuels, has weighed on the markets and economy as well. Energy earnings contracted 50% in Q1 and estimates for the calendar year 2015 have come down from $50 to $20. This has stymied earnings growth for the aggregate index, negating much of the good news in other sectors. The positive is this drag is starting to dissipate. And while the lower gasoline prices at the pump appeared to go into savings during the first half, there are signs consumer spending is picking up.

The rest of the news is largely positive. The port strike in Q1 is driving better growth in the current and future quarters thanks to some catching up. Payroll income, which includes both wage and employment growth, at 4.4%, should continue to encourage consumption. Housing data continues to strengthen, leading to accelerating starts. Employment gains continue and we are starting to see wage pressures.
If taken in isolation, the U.S. economy would easily auger for not just higher overnight rates but also higher bond yields. The U.S. 10-year Treasury bond has decline in price, lifting the yield from below 1.8% in January to the 2.2-2.45% range. Currently yields are pressing against the upper part of this range.

The global backdrop does become a bit more challenging. Economically, most countries are growing, albeit at a slow pace, with Russia and Brazil being the biggest exceptions. Beyond the economies there are two factors that will likely continue to weigh on the Fed's decision – Greece and China. Greece is largely contained from an economic impact but certainly can steal headlines and trigger brief flights to safety. Of course this could change. China is a bigger risk as their stock market bubble pops. This is going to make the government targeted growth of 7% much more difficult. Does this spread or impact other markets and to what degree?
If we see the economic data continue to improve in the U.S., it is more likely that bond yields will move higher. In the medium term, higher bond yields on the back of good data tends to be manageable for the equity markets. However, the short term may prove difficult. With market valuations still somewhat elevated, earnings momentum slowing and if you throw in higher bond yields, this becomes a challenging environment.

We are optimistic towards the second half of 2015, but it will likely be a bumpier and more challenging time.