MARKET OVERVIEW: Q2 2015
by Mawer Investment Management
Central bank action was a dominant theme this quarter. While the ECB and Bank of Japan maintained their massive stimulus programs, the Federal Reserve, bolstered by mostly positive economic data, continued to signal for an interest rate hike sometime this year. If, when and by how much rates may rise, continued to be key questions on investors' minds.

In June, a substantial global sell-off in government bonds saw yields rise materially in many economies around the world (in some cases over 0.5%) before eventually falling again by the end of the quarter — although yields broadly remain at higher levels than the extreme lows they hit earlier this year. These moves highlight the potential for the volatility of yields to remain elevated. They also suggest that investors are incrementally less concerned about the risk of deflation.
This quarter also saw the return of Greek drama to center stage. As this newsletter was written, the Greeks had narrowly avoided bankruptcy after offering to meet most creditors' demands in exchange for a new bailout. The terms in this 11th-hour plan contain many elements that were previously rejected in Greece's national referendum which was held merely one week earlier. It is the latest in a long string of battles between Athens and international creditors since the sovereign debt crisis erupted in 2010 that have roiled markets in recent weeks. Investors may now get a temporary reprieve from Greek drama.

Moving to the other side of the world, the Chinese market is definitely keeping us up at night. Our team has found it genuinely difficult to find any piece of positive economic news from China in recent months. Not only have most economic indicators such as purchasing manager indices, factory capacity, and GDP growth displayed negative trends, the country remains bitterly weighed down by debt and staggering amounts of overcapacity in key national industries such as steel. On top of this, China's stock markets spent most of the first half of this year on a tear, bolstered both by a technology bubble and excessive amounts of leveraged borrowing by retail investors. These gains came crashing down this quarter, with heavy investor selling leading to steep losses in Chinese stock markets.
China's response to its stock market losses was astonishing. Just after quarter end, China's securities regulator banned major shareholders, corporate executives and directors from selling stakes in listed companies for six months; a move that was made after nearly half of all Chinese listed companies suspended their shares to insulate themselves from the meltdown. This desperate decision by the Chinese government amounts to heavy interference in financial markets and puts China back years in terms of reforms. The economic hurdles facing China are clearly significant.
Chart A depicts equity performance over the second quarter of 2015. Performance is expressed in Canadian dollars and summarizes some of the notable equity indices around the world.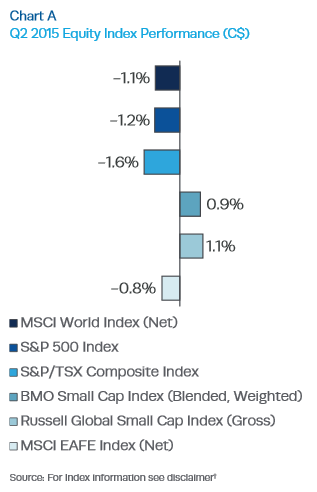 Global equities were negative this quarter, reflecting concerns around Greece, China and weak commodity prices. The S&P/TSX Composite Index underperformed relative to the S&P 500 and the MSCI World Index, as weak global oil prices continued to weigh on the Canadian economy.

Source: www.Mawer.com